The market in Ventimiglia: a shopping wahalla for bag lovers
If you have a love for beautiful leather bags, we have discovered a little piece of heaven for you – the market in Ventimiglia! This is no ordinary market; it is a true bag paradise with a touch of Italian flair and craftsmanship. So, let those shopping vibes flow, put on your comfy shoes, and get ready to start your ultimate bag hunt in Ventimiglia.
An Italian Romance
When you think of Italian leather bags, you think of romance, style and craftsmanship. And that's exactly what you can expect in Ventimiglia. The local artisans here take their bags seriously, and it shows in the quality of the leather and the attention to detail. It is as if each bag is a love letter to fashion. And you know what's so funny? We saw certain models hanging in Amsterdam. But 4 times as expensive. The best thing at the market are the outlets with leather bags, for €20 you can find the most beautiful bags. Whether you go for a timeless classic, a statement piece, or just something that fits your own unique style, the market in Ventimiglia has it all. From elegant shoulder bags to funky crossbody bags, and from smooth leather to suede, you're sure to find a bag that makes your heart beat faster.
A Bag of Memories
Buying a leather bag at the market in Ventimiglia is more than just a shopping experience; it is a chance to bring a piece of Italian culture and craft into your daily life. The market in Ventimiglia has a unique atmosphere that will immediately enchant you. It starts bustling early in the morning and becomes more and more lively as the day progresses. Here you will find a mix of locals and tourists, all carried away by the exciting energy of the market. The streets are lined with colorful stalls selling everything from fresh produce and clothing to handmade crafts and souvenirs. It is like a bustling miniature city that comes alive only on market days.
Pasta and formaggio
One of the biggest highlights of the market is undoubtedly the culinary aspect. Ventimiglia is known for its delicious local dishes and fresh produce, and you won't find a better place to sample them than here. Be sure to taste the famous Ligurian olive oil and pesto – they are simply delicious. If you like cheese, be sure to visit the stalls selling local cheeses. The flavors range from mild to spicy. Our favorite address is Marco with his white stall and green advertising (see photo). He really has the most delicious Gorgonzola and Parmesan cheese. On the same street you will also find stalls selling the most beautiful pastas. Great to take home as a gift!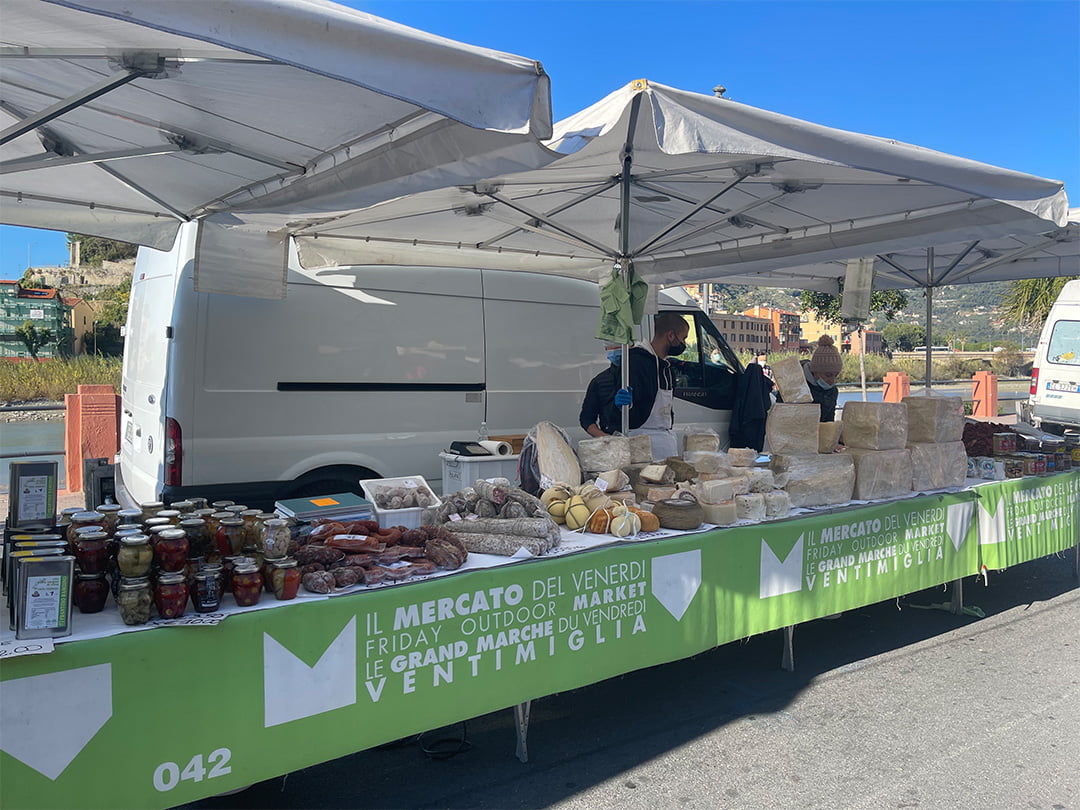 And if your husband hates shopping?
Then you actually have a few options. Either grab your own car or get dropped off. Or you take the train from Menton Garavan and let him relax by the pool. Or park him in Ventimiglia on a seaside terrace with an Aperol Spritz.
Tips for your visit to the market in Ventimiglia (every Friday)
Make sure you have cash with you, as not all stalls have ATM machines (you can, of course, withdraw in Ventimiglia).
Come early to avoid the crowds and score the most beautiful bags.
Don't forget your sunglasses, sunscreen, especially on hot days.
Park in Ventimiglia harbor and walk to the center. Once you cross the bridge, all you have is traffic jams. If you have an electric car, you can charge it perfectly in the garage.
Want to have a nice lunch? Reserve a restaurant. We made a nice list for you.
Another fun bag market!
If you are not in Ventimiglia on Friday, there is another nice market in Bordighera on Thursday mornings from 9 a.m. to noon. Marco also sells cheeses there and many stalls with bags are also at the Thursday market in Bordighera. You'll find the market along the beach. Bring your beach gear right away!