Menton, also known as the "pearl of France," is a charming city located on the French Riviera. With its idyllic location between the mountains and the Mediterranean Sea, Menton has attracted travelers for centuries. The city has a rich history and a vibrant culture that you can feel everywhere in its streets. Easy to reach by car or train, Menton offers a wonderful mix of natural beauty and historical sights.
Menton's history dates back to Roman times, and the influences of different cultures are still visible in the city's architecture and traditions. Menton has a Mediterranean climate, making it an ideal year-round destination. Whether you want to relax on the beach, sample the local cuisine or explore the historical sights, Menton has something for everyone.
Sightseeing in Menton
Menton is bursting with sights and attractions not to be missed during your visit. One of the most impressive sights is the Basilique Saint-Michel, a beautiful church with a striking Baroque facade. Inside you will find beautiful frescoes and an impressive organ.
Another must-see attraction is the Jardin Exotique du Val Rahmeh, a botanical garden filled with exotic plants and flowers. Here you can walk among the lush vegetation and enjoy the serene atmosphere. For lovers of art and culture, the Musée Jean Cocteau is highly recommended. Dedicated to the work of famous French artist Jean Cocteau, this museum houses an extensive collection of his paintings, drawings and ceramics.
The old town: Ville Vieille
One of the highlights of visiting Menton is exploring the old town. Stroll through the narrow cobblestone streets and admire the beautiful architecture. Here you will find numerous stores, boutiques and restaurants where you can enjoy the local atmosphere. Be sure to visit the beautiful Saint-Michel-Archange Church, an impressive example of Baroque architecture. Another attraction in the old town is the Chapelle des Pénitents Blancs, a charming chapel with a beautiful view of Menton. Climb the stairs to the chapel and enjoy the breathtaking views of the city and the sea.
Also, don't forget to stop by the covered market (Marché municipal). where you can buy local products and artisanal delicacies. You'll find an authentic bakery, several cheese shops, a fantastic butcher and a delicious Lebanese caterer.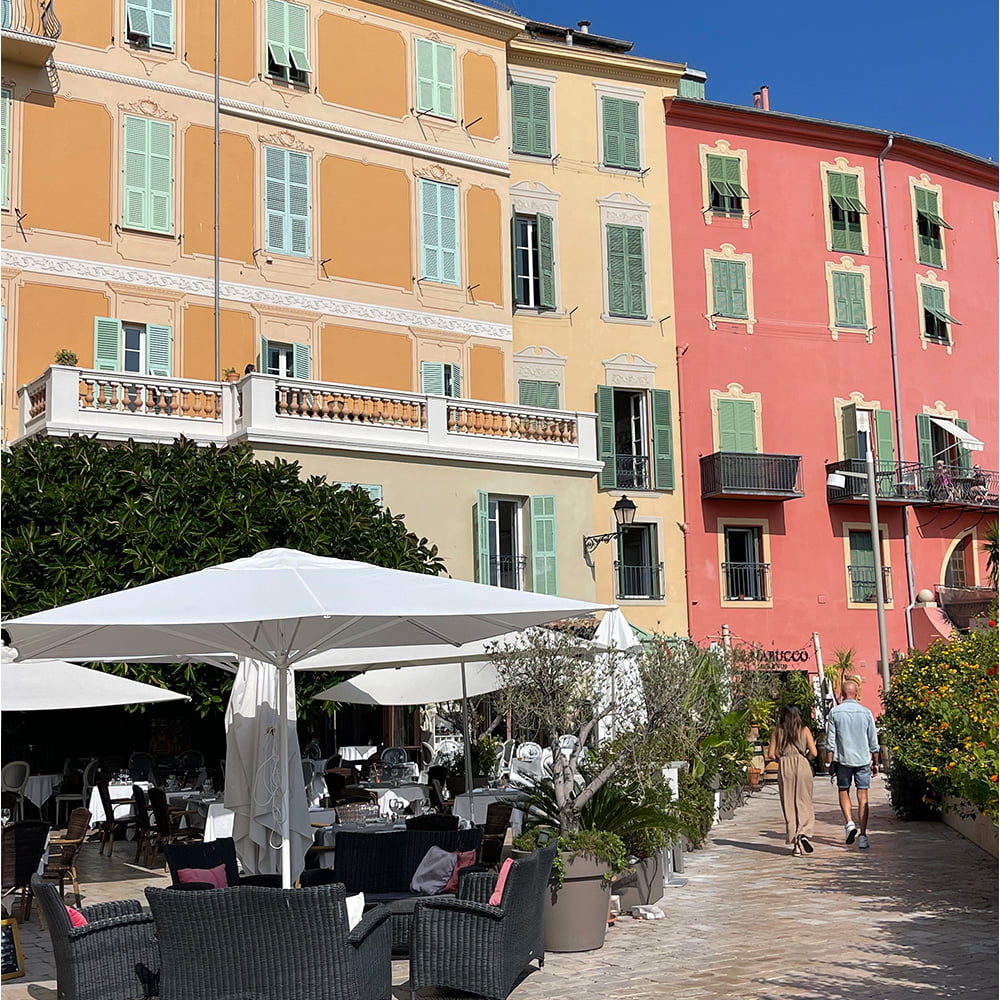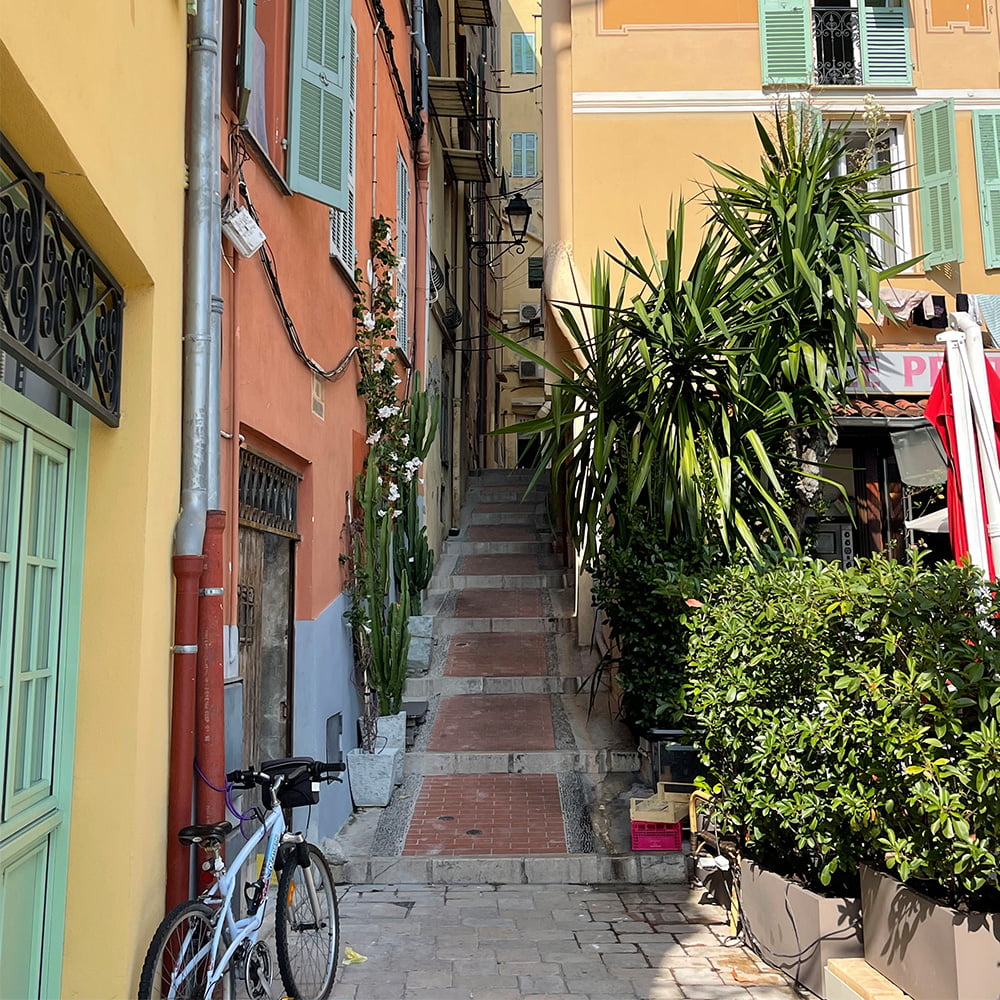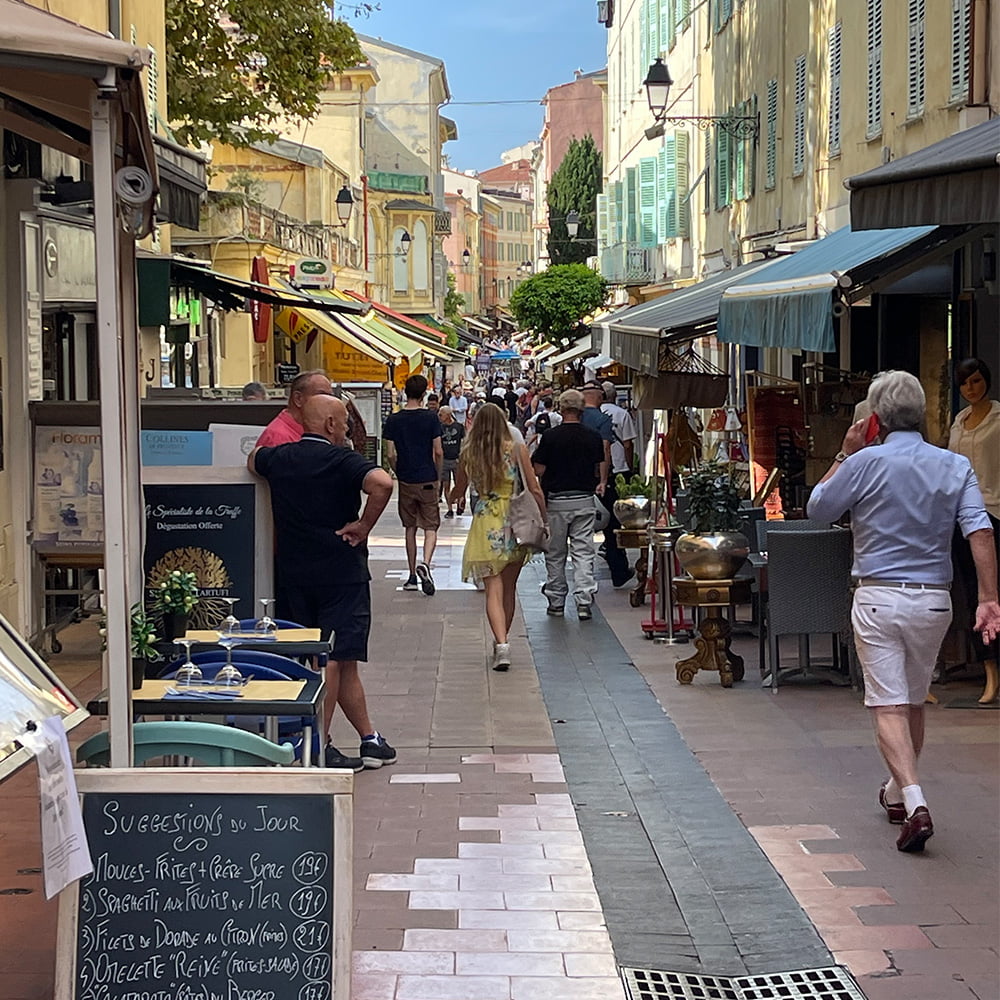 Culinary delights and delicacies
Menton's local cuisine is a real treat for foodies. With its location on the Mediterranean Sea, Menton offers an abundance of fresh seafood such as mussels, oysters and anchovies. The town is also known for its delicious olive oil, produced in the surrounding hills. One of the most famous dishes of the region is the "barbajuan," a deep-fried dough packet filled with spinach, chard and ricotta. This savory dish is a favorite among locals and should definitely not be missed during your visit to Menton. Also don't forget to taste the local wines, such as the famous "vin de Bellet," produced in the nearby vineyards. Looking for a restaurant? Here we have some tips for you!
Mirazur: Mirazur is a three-Michelin-starred restaurant and was awarded the title of "Best Restaurant in the World" in 2019. Chef Mauro Colagreco serves innovative dishes here with an emphasis on fresh, local ingredients and stunning sea views. Truly a culinary experience!
Le Petit Prince: Housed in a charming villa, this restaurant is known for its exquisite French cuisine and elegant atmosphere. The menu offers an array of delicious dishes using seasonal ingredients.
Le Bistrot du Port: For a more casual and cozy dining experience, head to Le Bistrot du Port. They serve traditional Provencal dishes, including fish and seafood, in a beautiful location on the harbor.
Les Vents d'Anges: This restaurant specializes in Mediterranean dishes and has a relaxed atmosphere. You can enjoy seafood dishes and pizza here.
Cote Sud: Decorated by our Dutch interior designer, this restaurant serves

authentic Mediterranean cuisine in a charming Provençal atmosphere

Fleur de Sel: fun to eat delicious crepes with the kids.
* Some do not have a website, so a quick search on Google Maps!
The best souvenir stores in Menton
La Céramique Provençale: beautiful hand-painted vases and dinnerware with lemon and olives.
Coté Lemon: super cute to take home or quay to give, bonsai olive trees.
La spécialiste de la truffle: basically everything is delicious if you love truffles, but we think the pesto with truffle is a real winner.
Muy Mucho: If you love interior design, you should definitely browse this store here.
La Maison du Savon de Marseille: delicious soaps, oils and fragrances.
Casa Ideas: another interior design store that will make you greedy. Trendy stuff with a French touch.
Au pays du citron: the most delicious limoncello made from lemon, tangerine or lime.
Coqui Coqui Parfums: truly special perfumes made from Monoi that the owner grows herself on Bora Bora where she lives. You will find this store next to the Basilique.
The most fun festival: Fête du Citron
Menton is known for its lively festivals and events held throughout the year. One of the most famous events is the Fête du Citron, a colorful festival held every February. During this festival, the streets of Menton are decorated with beautiful sculptures made of oranges and lemons. It is a spectacular sight not to be missed. Another popular event is the Menton Music Festival, which takes place during the summer months. This festival attracts internationally known artists and offers a diverse program of classical music, jazz and pop. For art lovers, there is also the Menton Film Festival, which shows a selection of the best international films.
Relaxing on the beach
If you love sun, sea and beach, you will definitely enjoy the beautiful beaches of Menton. With its crystal clear waters and fine sand, Menton offers the ideal environment to relax and enjoy the sun. Whether you want to swim, sunbathe or practice water sports, there is something for everyone.
One of the most popular beaches in Menton is the Plage du Marché, located in the heart of the city. Here you can relax on the beach, enjoy a refreshing dip in the sea and participate in various water sports activities. Looking for a beach club? Then you can go to the Plage des Sablettes, which is a little closer to Balzi Rossi. This beach offers stunning views of Menton Bay and is perfect for a relaxing day by the sea. Our favorite beach club is: Panama Plage.
Trips from Menton
Menton is the ideal base for taking day trips to other beautiful destinations on the French Riviera. A popular destination is Nice, which is just a short train ride from Menton. Nice offers a wealth of sights and attractions, including the famous Promenade des Anglais, the Old Town and the Musée Matisse. Another interesting day trip is a visit to the principality of Monaco. Here you can visit the famous Monte Carlo Casino, the beautiful gardens of the Prince's Palace and the Oceanographic Museum with the kids. Also, don't forget to take a stroll along the beautiful harbor and enjoy the view of the luxury yachts. You can easily go by car. But you can also take the train from Menton Garavan.
Conclusion: Why Menton should be on your travel bucket list
Menton is a beautiful old French town with the romance of Italy. Cozy squares, nice stores and tasty restaurants. Menton's old town, also known as the "Vieille Ville," is a popular place to stay. Enjoy the picturesque streets, colorful facades and lively atmosphere of this historic district. Do you want to relax? There are many beach bars where you can relax, and enjoy a cocktail or a delicious meal. In short, whether you are looking for luxury, authenticity or a beach vacation, Menton is definitely worth a walk from Balzi Rossi!